MES Engineering Tech is a quality industry provider of fire protection services that meet the insurance and certification requirements set by the National Fire Protection Association (NFPA). 
We specialize in a custom design, fabrication, installation, and support of fire protection systems, including sprinkler systems in the commercial and industrial markets. Our systems and services are backed by our experienced staff, innovation, and time-tested quality work. At MES Engineering we understand the importance of fire safety in protecting the lives of your personnel, as well as the investments, assets, and continuity of your business. Whether you need a qualified company to provide fire protection system design or contractor services for your industrial or commercial structure, healthcare facilities, power plant, refinery or new business development, we are here to serve you. We provide high-performance fire safety systems giving you the competitive edge in today's industry. Entrust your facility's fire protection system design, contractor services, and suppression systems to MES, and let our qualified personnel assist you throughout your project
FIRE SPRINKLER SYSTEMS DESIGN AND INSTALLATION
At MES, our designers and engineers continually pursue the best and most efficient design methods to help each project perform seamlessly. To deliver this, we cooperate with local and national insurance authorities presenting to them the modern designs up to date on NFPA codes. We work diligently to coordinate all project's details avoiding any field changes that could result in costly delays. To prevent such risks, we subject all equipment to an investigation of the market advantages, risks, and costs, and always stay apprised of all new and upcoming products. If your new or existing facility is a cold storage facility or requires an ESFR (Early Suppression Fast Response) sprinkler installation, our experienced engineers and field staff can help design and install the best solution.
Fire pumps are an intricate part of a business's fire protection and prevention system. Their role is vital in the situation when the municipal water supply is not capable of providing the pressure sufficient to meet the hydraulic design requirements of your company's sprinkler system. Unfortunately, this is quite common in the case of high- rise buildings, which require a tremendous amount of pressure and a larger flow of water. Let MES help you in planning and designing of the fire pump requirements for your structures. We work with horizontal split case pumps, vertical split case pumps, vertical inline, vertical turbine or end suction pumps among others. Our highly knowledgeable staff can advise you in choosing the appropriate pump needed for your fire prevention system design.
We work carefully with top architects, engineers, and electrical contractors to ensure that your company's fire alarm systems meet the requirements of NFPA 72. We install the industries best and highly respected fire systems that meet the particular industry's flexibility, performance and reliability requirements. Moreover, we can assist you at every step: from planning, installation, to execution of all code required monitoring, testing, and inspections.
FIRE SPRINKLER INSPECTIONS AND ALARM TESTING
MES maintains a staff of highly trained fire sprinkler and alarm specialists that are duly certified and customer focused. Let us assist you in the required periodic inspection of your sprinklers, hose outlets and fire pumps alarm systems and any other requirements enforced by NFPA 25 and NFPA 72. Any imperfections found are always reported to the business owner, followed up with suggested solutions best suited to correct such impairments.
FIRE PROTECTION AND REPAIR
MES Engineering service and repair technicians offer 24/7 rapid response time for complete fire protection system repairs and maintenance. Our philosophy when it comes to fire protection and safety is proper planning and routine fire protection maintenance. The excellent track record of our solutions can be directly attributed to this approach. Let us assist you in preventing unnecessary risks or malfunctions associated with your company's fire protection. Should you need urgent assistance, we are here to provide emergency services.
SPECIAL HAZARDS SUPPRESSION SYSTEM
Special Hazard Suppression Systems are designed for such applications when adding water into an environment creates serious harm. A prime example of water systems creating more harm than good is in the case of most electronics and manufacturing equipment. Moreover, installing a special hazard system suppresses a fire without damaging your company's structures or manufacturing equipment. We provide specialized suppression systems for the businesses with special-hazard or high-hazard facilities, which meet insurance and local/national code requirements and ensure fires can be extinguished quickly.
Let MES specialists assist your company in fire doors planning, installation, and maintenance. Fire doors are available in various shapes, sizes, and security specifications. Selecting the appropriate fire doors plays a principal role in structural fire protection and fire safety. Expertly planned fire doors help delay the spread of fire from one unit to another within the structure. We offer diverse products and services to design and execute the solutions that fit the requirements and specifications of your particular project. We can help you achieve a safer and more efficient fire protection system for your business
Our professional corrosion management services include internal corrosion assessments and design services for the corrosion management. MES is dedicated to providing customers with the most accurate evaluation and forecasting of the corrosion in your fire prevention system. Whether you are currently suffering the effects of corrosion, or are seeking preventative measures against it, our specialists can identify and manage the various types of corrosion within the water-based fire sprinkler systems.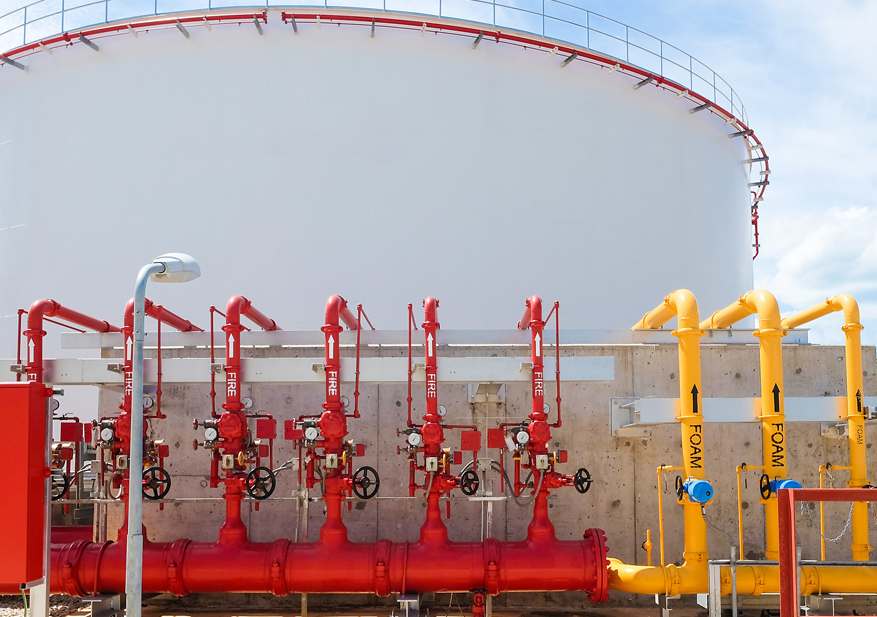 WE SPECIALIZE IN A CUSTOM DESIGN, FABRICATION, INSTALLATION, AND SUPPORT OF FIRE PROTECTION SYSTEMS.